I know Gareth from cooking at Pascha Pourian's cooking school. He is originally from Australia. In addition to his food truck "Pie Me", he actually has a bistro in Bonn Endenich. I love the pies, the salads, the mashed potatoes and the sweet pies are great, too. I'm very happy, that Gareth shares a Pie Me recipe with you. I hope you all have the opportunity to eat there once – I can recommend it from the heart.
Yield: 16 Pancakes
You need
100g wholemeal flour
630g spelt flour
50g rye flour
50g plain flour
30g Chia seeds
50g rolled oats
10g tumeric powder
pinch of salt
4 whole eggs
1100 mk almond milk
a little canola oil
Mix the various flours, oats, chia seeds, turmeric and salt together in a bowl. Make a well in the middle and add the eggs and milk. Combine with a whisk and mix well until there are no more lumps. Allow to stand for 10 minutes. Add more almond milk if needed, to the desired consistency.
Preheat a pan over medium heat and add a little canola oil. Add a label of pancakes mix to the pan, and fry over medium heat for 2.5 minutes. Flip the pancake and fry for 2 more minutes. The pancake should be lightly golden brown and crispy at the edges.
Serve with fresh fruit, yogurt and honey!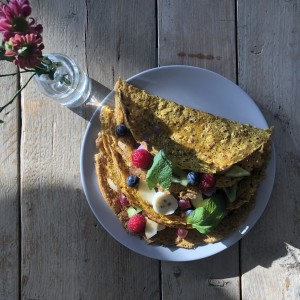 Ihr findet Pie Me aus Bonn sowohl auf Facebook als auch auf Instagram – schaut mal vorbei und lasst ein Herzchen da!